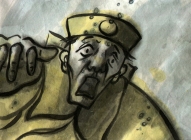 Bio
Charlene Shih was born in Taiwan and received her MFA from the California Institute of the Arts. She is an interdisciplinary artist, working in the medium of film, painting, and installation. She has produced many award-winning experimental animation and documentary films, and has been awarded artist residencies from 18th street Arts Center in Santa Monica, Taipei Artist residency, and Cite International des Arts, in Paris.
Charlene currently lives and works in Los Angeles, California.
Artist Statement
My early works of painting, installation, animation, and video have all related to the role of me being a female Asian artist. They cannot be separated from the Chinese painting and calligraphy that I was nurtured with since birth. The works are a constant struggle between east and west; desire and morality, and the process of finding my own identity.
At age 28, I finished the experimental film "Women", an animated film that was done completely using ink on rice paper. It includes all of the concepts and ideas I expressed in my previous works. "Women" was a milestone for me. After completing "Women", I could relinquish the feminist topics and Chinese painting and calligraphy obsessions I had explored .
It has been over a decade since "Women" was completed. Since then, my focus has switched to family, friends, and controversial topics in the society. But even after a decade, I realized that women's roles have not changed much. The style of Chinese paintings and calligraphy have not altered either as we walk into a new century.
After trying to break all the rules, my role is still identified as a female director, a daughter, a wife. It doesn't matter how hard I struggle, in the end I am just like all the other women, put back into a small box that everyone can identify with and agree upon. My work continues to struggle against the rules and lingering the tradition.