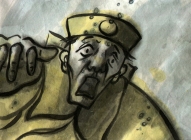 Bio / Artist Statement

Charlene Shih is an interdisciplinary artist exploring themes of identity through her work in film, painting, and installation.
Drawing from her experience growing up in Taiwan and living and studying in the US, Charlene seeks to understand herself as a modern Taiwanese American woman. Her work employs symbols, letters, and patterns to examine the relationships between identity, physicality, and the outside world. Through experimental animation and documentary films, paintings, and installations, Charlene explores the themes of belonging, cultural identity, and personal history. She has been awarded artist residencies from notable institutions such as 18th Street Arts Center in Santa Monica, Taipei Artist Residency, and Cité Internationale des Arts in Paris.
Charlene's work is intended to spark conversation and encourage self-reflection in her audience. Her continued exploration of the complexities of identity pushes the boundaries of traditional definitions
and categories.