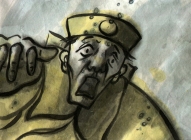 Bio
Charlene Shih was born in Taiwan and received her MFA from the California Institute of the Arts. She is an interdisciplinary artist, working in the medium of film, painting, and installation. She has produced many award-winning experimental animation and documentary films, and has been awarded artist residencies from 18th street Arts Center in Santa Monica, Taipei Artist residency, and Cite International des Arts, in Paris.
Charlene currently lives and works in Los Angeles, California.

Artist Statement
My work has always been about identity searching by using symbols, letters, and patterns, through different mediums. Growing up in Taiwan and later studying and living in the US, I have been searching for a voice as an Asian female artist, examining the relationships between myself, my physical body, and the outside world, and what it means for me as a modern Taiwanese American. Whether using animation, film, installation, or painting, my works often are figurative with a bold statement injected with a sense of humor.